Kings Peak- We value what is difficult
Three years ago I went for a hike with my wife and another couple, Lisa and Joe Taylor. I had never been up to Kings Peak and thought that it would be fun to hike up and spend a couple nights up in the basin that is below the Peak and just enjoy the outdoors. At the time my wife and I had three very young kids and so this was our first trip leaving them at home with grandparents so needless to say I hadn't been backpacking for a few years on anything longer than a mile or two with the kids and so was looking forward to the trip and reaching the highest point in Utah.

The trail up to the basin is a very gradual uphill and is about 8-9 miles long. When we left from the Henry's Fork trail head the weather was very ideal for hiking and it probably took us 4-5 hours to make it to camp. On the way up when we passed the first lake which was about 7 miles up the trail we passed what seemed like a Boy scout camp with more tents and boy scouts wandering around than I had ever seen. We camped in a fairly secluded spot away from any of the lakes and sometime around midnight it began to rain and it kept raining fairly hard throughout the entire night. We made breakfast from inside the tent as it continued to ran until a little after noon.

With a break in the weather Joe, Terrie and I decided to head up and try and make the summit. We brought our rain ponchos incase it started to rain and headed up. I think we only made it about 20 minutes from camp before the rain started. As we camped near Anderson we decided to go up the pass which gains about 1000 feet very quickly and is a scree field where every 2 steps forward it seems as though you slide one step back. It was a new experience. We reached the top of the pass and the visibility started to drop as the clouds came up from the other side of the pass and soon enveloped the area. At the pass the wind was blowing very strongly and we all quickly learned how worthless a poncho is in the wind as they quickly ripped and seemed to disintegrate leaving us in the freezing rain.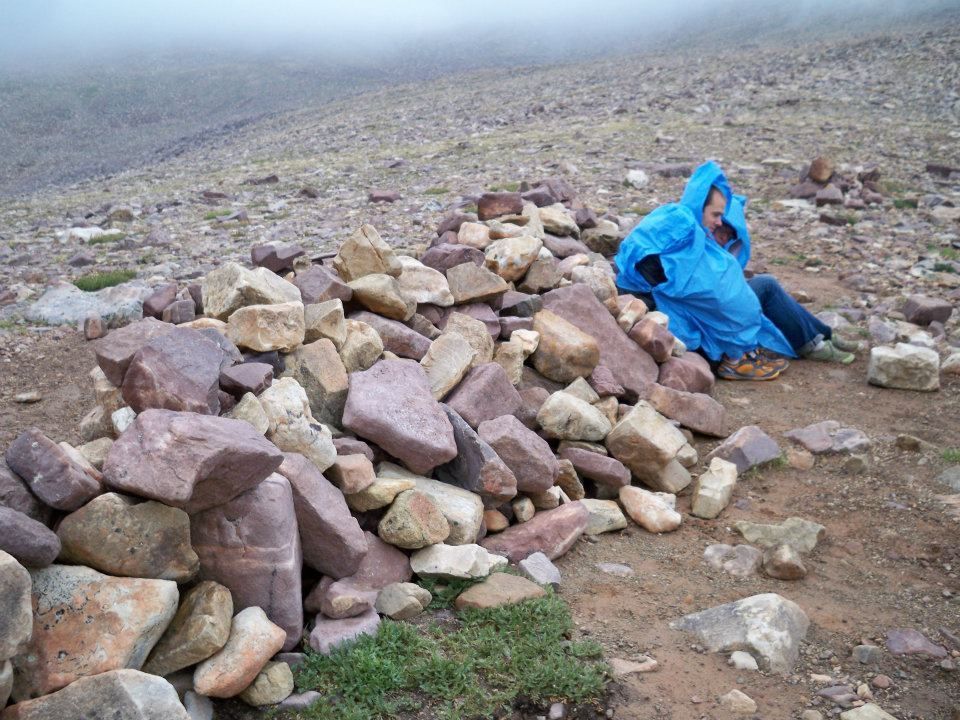 -Above is a picture of Terrie and I sitting behind a small wall built to block the wind near the pass
From the pass its about another mile or so scrambling on rocks about 3 feet in width all stacked on each other up to the Peak. We were moving pretty slow as the rocks were slippery with all of the water on them and about 500 feet up my wife turned around when she heard what most likely was thunder. Joe and I continued up the Peak which on a sunny day is tame enough to take a troop of 12 year old scouts up. About 20 minutes later we thought we were at the Peak as we couldn't see anything higher but my GPS watch told me we were about 150 feet too low in elevation to be at the Peak so we hiked along the ridge until we could see something higher and finally made the peak. It felt like a much bigger accomplishment than it was and by this time my clothes were soaked through and Joe and I were both getting pretty cold so we headed down the mountain.
It took us about 5 hours to make it up to Kings Peak and back from our tent. Joe who had slep most all of the morning crawled in his sleeping bag after our summit and slept till Lisa had dinner ready and after eating it went back to sleep and slept clear until the next morning. It finally stopped raining the next morning and I was able to find a hollowed out log and use some tri-oxane fuel to start a fire and dry out some of our gear before hiking out.
I learned a lot of lessons on this trip and have since become a little bit obsessed about good rain gear (La Sportiva Storm Fighter Jacket). I valued making the peak because it was difficult and seem to remember the trip very fondly because it wasn't a perfect weather day. That which we attain too easily we don't value.
Kings Peak 2013
The next year my wife and I hiked Kings Peak in October. With our kids a little older and two of them in soccer we watched them play their soccer games and headed out after their game not arriving at the trail-head till about 5 o'clock. The weather was beautiful and this time my wife made the peak Sunday morning and afterwards we packed up and hiked the 9 miles out. I had started running by this time and so it didn't feel nearly as difficult but my wife was getting pretty wobbly legged on the way out as we were hiking all day and covered 17+ miles that day which included going up to the Peak. She was also still recovering from her first Half Marathon which she ran the week before. It was a fun trip and we hiked up with Dave Olsen and his wife at the time Cassi. It is often good company that makes a trip memorable.
Something stuck on my mind-FKT

After having done something a couple of times you usually get it out of your system, but after getting back into running a couple of years ago and running primarily trail races I started wanting to run Kings Peak car to car and I wanted to make a bid for the FKT which at the time was 4:34 and held by Dan Gardner. I picked a weekend after my last MountainCup race and waited but when the weekend came last year an early storm blew in leaving ice and snow at the Peak so I ended up not taking a shot in 2014.
This year I picked a weekend a little sooner after my last race so that an early storm wouldn't take the chance away but about a month or so ago I started feeling tired. I am really not sure why but this is something that has happened to me a couple times in the past. In college I ended up with walking pneumonia and so being a little older and wiser when I feel that I am not recovering I back my mileage down and try and get more sleep(cutting mileage is easy but as a Dad with young kids adding more sleep can be difficult).
Not having done a run over 16 miles for a couple months I really didn't know if I wanted to run Kings Peak knowing that it was about 25 miles car to car with most of it above 11K in elevation on a very rocky and slow moving trail but after doing a 20 mile run on Monday and feeling better on Tuesday I called up Dave Olsen who had Friday off and decided to make a Thursday/Friday trip. My Family was going to be gone on Friday and so it was the perfect opportunity to take off without having to miss one of their soccer games. Dave hasn't been running and wasn't in shape to run the peak with me but more than anything I needed someone to come looking for me if I didn't show up after 5-6 hours in case I twisted an ankle or ran into a hungry Bear along the trail :)
A couple weeks before my run Jason Dorais and Lars ?? lowered the FKT to 4:13:29. I knew that I wasn't in as good of shape but still wanted to make a shot at the record. Dave and I got to the trailhead a bit after 8 o'clock and set up camp and went to bed at a fairly good time and I took off for the Peak the next morning at 7:40AM. It had dropped below freezing that night and was cold in the morning but in hindsight I should have left closer to 7 as it warmed up fast on the run.
I had found Jason's splits on his blog post seen here http://jasondorais.blogspot.com/2015/07/kings-peak-fkt.html.
Bridge - 45 mins
Gunsight Pass - 1:32
Summit - 2:18:57 (turned around 30 secs later)
Gunsight Pass - 2:57
Bridge - 3:31
TH - 4:13:29
Seeing their splits I thought my best chance for beating their time would be to trim time off after hitting the Peak. As I stated earlier the first 9 miles are a very straight trail. I was 45:09 at the bridge and was 1:35 at Gunsight pass but that is about when my trip started heading south. Even though I have summitted Kings Peak twice before I have always camped near Anderson Pass and so have never went up Gunsight Pass towards the peak.
After hitting Gunsight Pass I had been told that there was a faint trail that breaks off from the main trail and heads in a more direct route to the Peak. I thought that I had taken this trail but after looking at Jason's route on Strava it looks like anyone trying to FKT the Peak cuts off from the trail at the top of Gunsight and doesn't really follow a trail until they connect back up with the main trail at the top of Anderson Pass. I on the other hand ended up dropping a ways into the basin on the other side of Gunsight Pass and then took a cut off trail that took me another mile and seemed to vanish when crossing a section of rocks. I lost about 10 minutes looking for the trail and atleast another 15 from dropping down into the basin. Once back onto the trail I thought I was only 10 minutes back and decided to make a more direct route towards the summit and so headed straight towards the peak (The main trail passes beneath the peak and then follows the ridge back to the top). Heading straight up the rock pile towards the Peak ended up being a lot slower and I red-lined pretty hard trying to make up time and had to take a breather about 500 vertical feet from the Peak. After that I was pretty dead and made the peak in 2 hours and 55 minutes about 40 minutes slower and 1-2 miles longer than the FKT time.
I stopped at the peak for 3-4 minues eating a very tasty gel and headed back down the mountain. Being tired and not wanting to go back the way I came as I knew the FKT was out of the question I decided to go down Anderson Pass as I am much more familiar with that route and had good memories going down it (I now realize those memories of going down it were a little rose colored by time as it isn't that fun). On the way back I felt very spent and think that I can relate to how most people feel when they run a marathon as it got hot and I started moving a lot slower the last 5-6 miles. It ended up taking me 5 hours and 25 minutes. It was good to have a friend on the trip as Dave made me sit in the river which really helped me cool down and oddly made my stomach calm down so I was able to start eating. I didn't stop feeling hungry for atleast three days after the trip.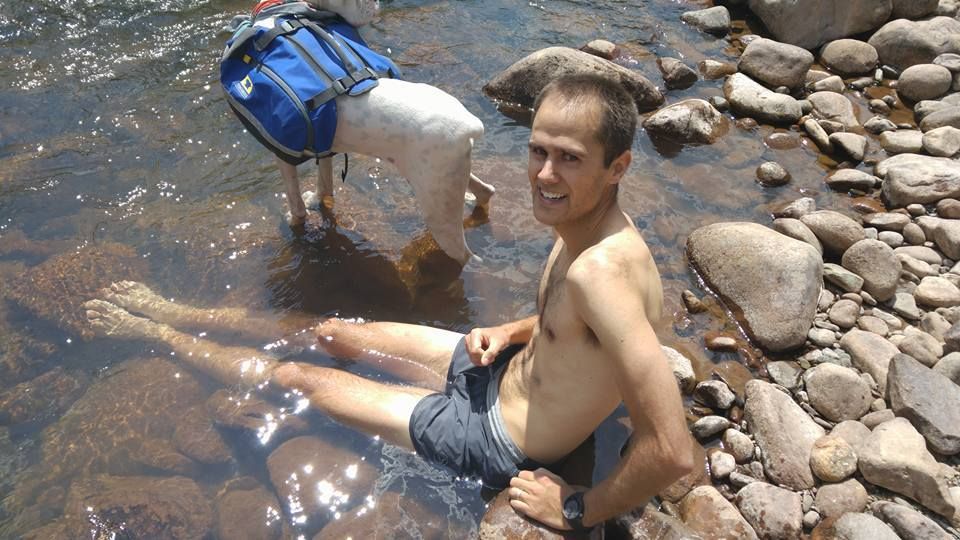 Last Thoughts

Every time I head out into the mountains I find myself wanting to spend more time in them. I am currently looking into fastpacking and combining trail running and backpacking as I enjoy both, so if you want to go fastpacking hit me up as I need to connect with more people who are into fastpacking.
Gear Shout Out
On the car to car run of Kings Peak I wore the Bushido's made by La Sportiva and they handled the rocky trail, scree and bolder hopping like a champ. Its nice being sponsored by a company that makes quality Mountain Gear when you want to spend more time in the mountains.